On Saturday, I ran the second 10K race in my year-long challenge, the ZEST Alpro Challenge 10K.  This race was no ordinary 10K though, it was an "adventure" race filled with obstacles I'd have to conquer over the 10K distance. Honestly though, I think the course conquered me more than the other way around.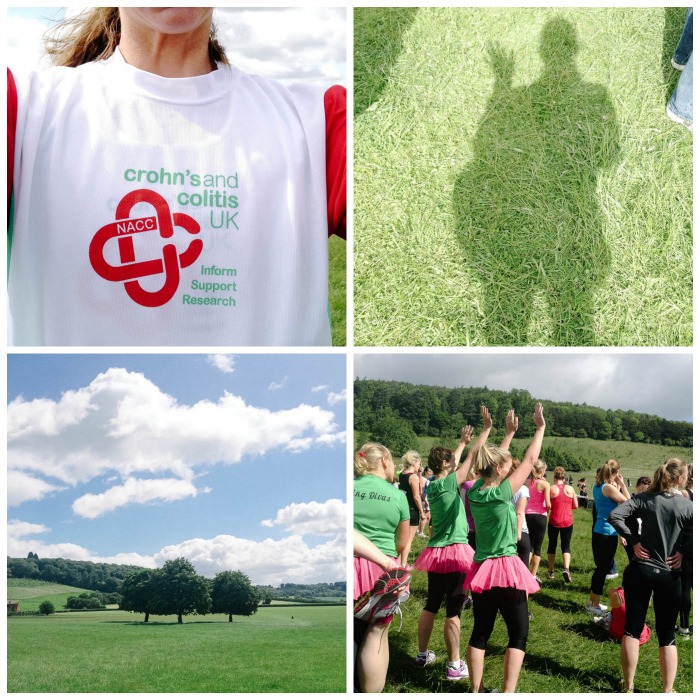 I was just past the 2K mark when I abandoned the idea of running the entire 10K.  I'd been running largely uphill across uneven terrain since the start of the race, my pace feeling slow and my legs like lead.  Thankfully, a short downhill stretch finally gave me the chance to pick up a bit of speed and relax.  I'd made it through the first obstacle, the tyre crawl, my single thought being "don't freaking trip and hurt yourself."  But the thing about running downhill is that you know that somewhere ahead you will have to run uphill.  You can't have one without the other.  So just past 2K I started to climb again and beyond the summit, I had a view of the water slide I'd soon be conquering.  My legs no longer had the will or ability to continue running.  I stopped and walked to the top.  And, it wouldn't be the last time.
The water slide was basically a giant trash bag on the side of the hill with a dude at the top hosing it down with water.  As I sat at the top of the slide, it actually took me a moment to get the momentum to slide down.  But then I picked up speed, racing toward the bottom and almost crashing into a woman at the end who was filming some friends, who then narrowly missed me.   Thankfully, all we ran away with were soggy bottoms covered in grass.
After the water slide, I crossed another section of relatively flat terrain and running again gave me a lift.  Imagine that, I actually wanted to run!  Ahead, I saw my next obstacle, a set of tunnels I'd have to crawl through.  At least I was plenty wet from the water slide so the dirt really stuck to me.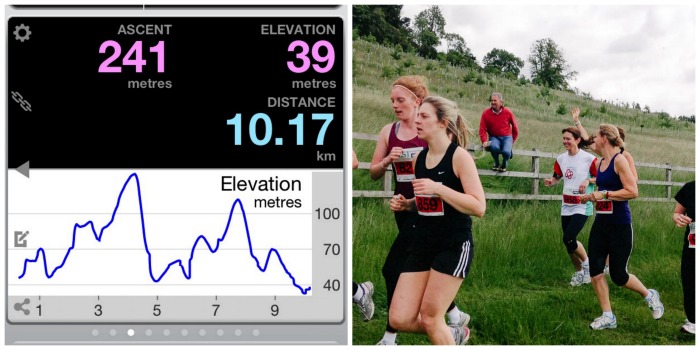 Once through the tunnel, I passed a course official who announced "it's all downhill from here ladies!"  She wasn't kidding.  In less than 1K, I'd descend the same elevation it had taken me the previous 4K to climb.  At times I was struggling to keep my footing, just focusing on putting one foot in front of the other and not falling forward.  I felt as if one false step would have me tumbling down the hill with a broken ankle.  Then, as I emerged from the woods at the bottom of the hill, I came across a trench I had to jump.  This time my single thought was "please let my foot land on the other side, please let my foot land on the other side."  They had arranged the course so that many of the obstacles, including the trench, were in full view of the spectators and supporters. Nothing like the risk of embarrassment to spur you on.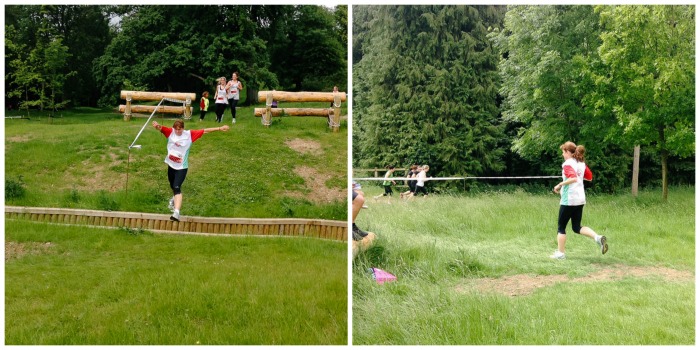 I then crawled under some sort of rope as I made my way to "hay bale mountain."  I imagined that this is what contestants on that Gladiators show felt like as they raced to the top of a foam mountain while being chased by someone named Lightning.  Here, the 5K runners turned for the finish.  My 10K partners and I headed back into the thick of the woods.
The course was actually beautiful, I enjoyed spending a Saturday morning taking in the scenery and some fresh air.  This was my first run in a  long, long time without music and I did find that I was much more in tune with my surroundings, and the sound of my heavy breathing.  But I knew the course would be challenging and I'd need to give it my full attention instead of zoning out to the latest Macklemore song.
Around 5-6K I was back to running until I met a queue, yes a queue, in the middle of the race.  I'd come to the next obstacle, the "slippery wall" I'd have to run up and over.  Women were stacked up waiting their turn, or second turn, at scaling the wall.  As I got closer to the front, a course official looked at us all curiously and said "Why are you guys all waiting?  This is a race you know.  Just go whenever you want, you don't have to wait.  Just go."  And, he had a point.  I didn't know what the proper etiquette was in this situation but in the end I just decided to go for it as soon as I saw an opening.  Getting up was actually the easy part.  As I slid down the other side though, I landed almost face first on the ground.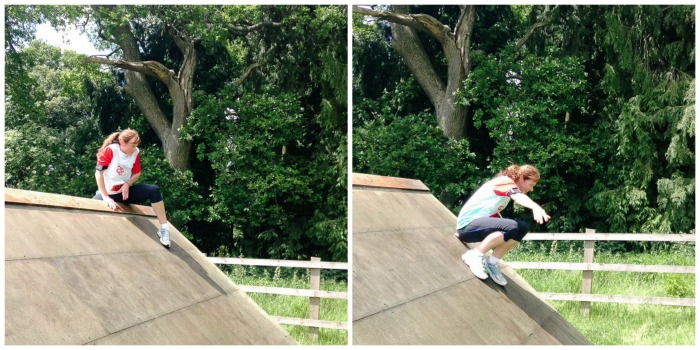 I had another opportunity to stretch my legs and run for a bit before I arrived at THE HILL.  Despite all my training over the past few months, I could not have felt more unfit as I scaled the almost vertical ascent up a rocky, grassy slope.  There was no running.  There was barely even walking as I leaned forward to keep myself from falling backwards down the hill.  Finally at the top, I found myself doubled over taking deep, deep breaths.  I was not alone. At times, everyone surrounding me was walking.
As I left THE HILL behind, I was beyond thankful for a nice flat section of trail to stretch my legs and run, really run again.  Even in these sections though, it was still tough going, running thorough grass, rocks, and over uneven terrain.  I then found myself in another queue, this one for "the swamp,"  a pond with some wooden pontoons you jumped across like stepping-stones to get safely to the other side.  But as I stood there watching some of the other women attempt to cross, I quickly realized that, no matter what, your feet were getting soaked. The pontoons wobbled and sank into the water with the slightest weight.  A woman ran past me and straight through the water, avoiding the pontoons completely.  This, I decided, was a smart move and I followed suit. Better to just get my feet wet than end up falling in.  Running in soaking wet shoes was not ideal though and I've definitely got some blisters as a result.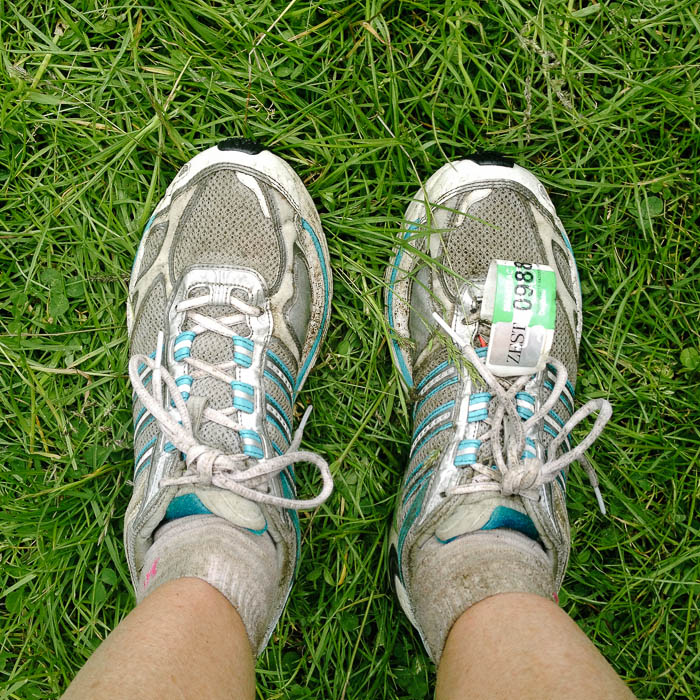 Things thankfully went downhill again and I felt like after the swamp, somewhere around 7K, I found my stride and a running rhythm.  And even picked up the pace.  I'd abandoned any idea of a good time before I even started but wanted to feel like I'd run my hardest when I actually could.
There was another pontoon crossing, this one across a creek and with sturdier pontoons.  The woman running next to me was happy to let me take the first step, we'd both witnessed the carnage at the last swamp and were cautious.  I had a couple of small hills to scramble up and then down then found myself faced with a set of balance beams, wooden planks stretched across a big ditch, with several routes to cross.
Next up was the "spider's web," a crazy web of string I had to climb through.  I felt like a "slightly" less glamorous version of Catherine Zeta-Jones in Entrapment, contorting my body around a complex web of lasers.
After the spider's web, I knew I was home free, with less than 1K to go.  The woods opened back up, I'd been running in the shade and shelter of the woods since about 5K, and I could see the finish.  But between me and the finish, a massive log to climb over, a dirt mountain to climb up and over, and then the big inflatable assault course slide.  This thing was like a bouncy castle on steroids.  Once I managed to climb into the thing, it swallowed me up and bounced me around with an assortment of inflatable punching bags.  At this stage, I found that my experiences around children's soft play areas proved valuable.  At the end I had to climb up and over a wall to get out of the big bouncy castle and, even with the help of 2 people, I could barely heave myself up and over.  It was not pretty.  After the most awkward slide ever, I bounced off the bottom then ran for the finish. Hooray!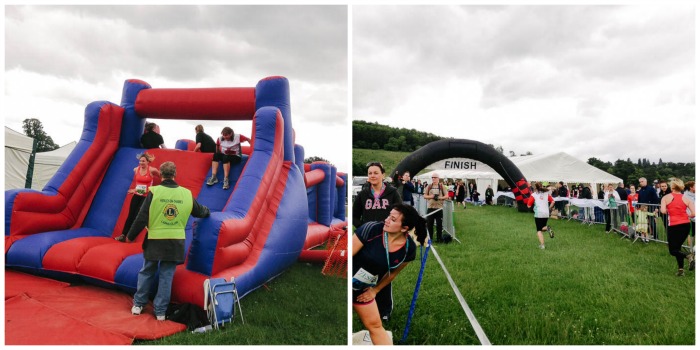 And bless if the rain didn't hold off until I was on my way back to the car in my muddy socks and shoes.
Despite all the physical challenges, I did enjoy this race.  The race was women only and everyone I came across on the course was supportive, determined, and enthusiastic.  Strong women of all ages and physical abilities ran in the race, all getting out there on a Saturday morning and putting themselves to the test.  My official time was 1:13:16, dog slow compared to my time at the Oxford Town & Gown, but I knew I wasn't running this race for a good time.  It was enough just to have finished.  My goals going in were finish, have fun, and don't hurt myself and I accomplished all three.
I'm not sure if I have much of a future in trail running.  My next race is a nice normal 10K on pavement and I know I'll prefer that.
Congratulations to everyone who ran on Saturday, well done!  Special thanks go out to all the friends and family that were out there supporting us.  And thanks Flo for all the pictures!