On Sunday I ran the first 10K of my 12 month 10K challenge, the Oxford Town and Gown 10K. And, I am so pleased with how this race went.  From the beginning, I declared my intentions, positioning myself at the "Sub-60 Minutes" area of the start.  I ran this same race two years ago and missed this goal by a couple of minutes.  But, this time, I knew I'd been much more focused in my training so really felt like this was achievable.
This race was so much different from the 7K I did at Blenheim Palace couple weeks ago.  First, there were a load more people, close to 4000 runners, many that looked way more serious and fit than me.  Second, it was a very flat course which my legs and lungs greatly appreciated!  The Town and Gown course is a really nice run as they close off many of the main streets in Oxford so you can run through the middle of the city.  And, the weather couldn't have been more perfect, sunny, but not too warm.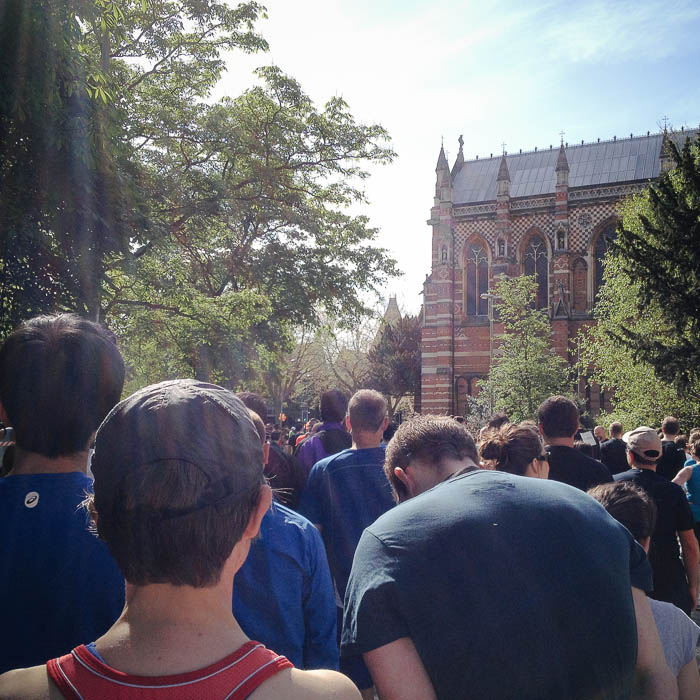 I learned so much from the 7K a couple of weeks ago, namely that I needed to pace myself.  In the 7K, I started out way too fast and had nothing left at the end, especially considering the hills I had to climb.  For the 10K though, I figured out how to set up some intervals on my running gadget of choice, the RunMeter app, to make sure that I ran a slower pace at the start then sped up (making sure that my slowest pace was no slower than 6:00 min/km as my goal was to run in 60 min or less). And this pacing felt so much better. I knew that it was OK to run a little slower in sections and not worry about people passing me because I'd speed up later.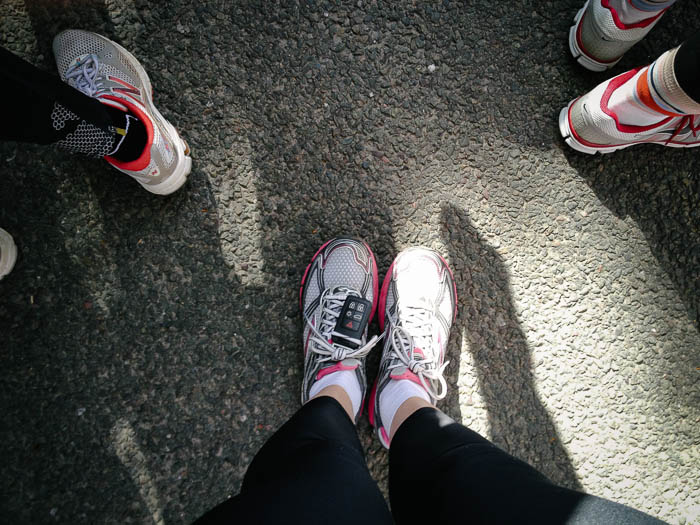 The biggest challenge I found was that it was a crowded race and some of the sections were quite narrow which meant very little room to try to pass people. I'd be trying to pick up the pace and run faster while trying to dodge other runners and traffic cones. Something I'll get better at navigating as I do more of these races I'm sure.
Over the last kilometer, I definitely turned the pace up as fast as I could and cranked up my power song.  I'm so pleased with the result, my chip time was 56:00 and well ahead of my 60 minute goal!  Two years ago when I ran this same race I was disappointed with my chip time of 1:01:23 as I didn't best 60 min. But I knew I hadn't been training properly.  This time though, what a difference a good training plan makes!  All those strides, intervals, and circuits, really made a difference. Thank you Julia!!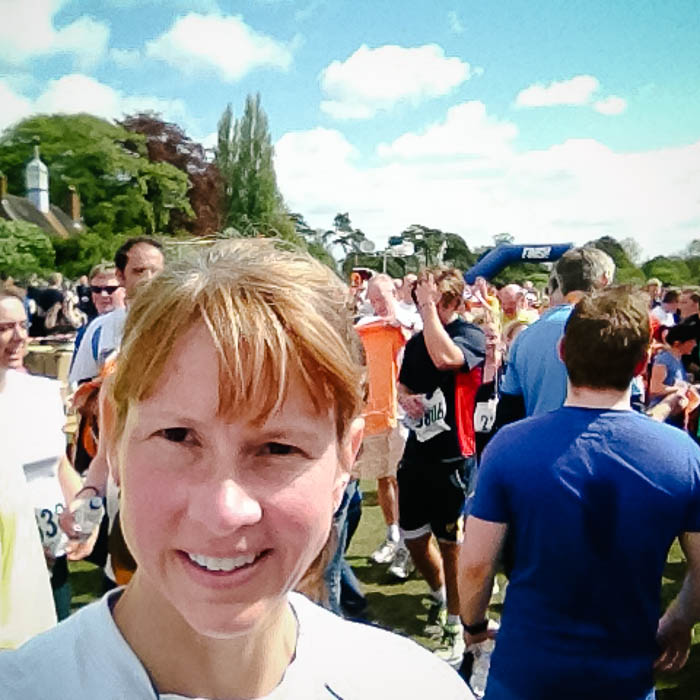 (Horrible photo from the front facing iPhone camera.  But hey, it's all I had at the finish.)
Upcoming Races
So with one 10K done and dusted, what's next in my 12 month challenge?  I now have the following races lined up for the next few months:
June:  Zest Alpro Challenge 10K, Henley-on-Thames
July:  Women's Running 10K, Nottingham
August:  Lacock Abbey 10K, Near Chippenham
September:  Prague Grand Prix 2013 10K, Prague
October:  BUPA Great South Run, Portsmouth
Why don't you join me?  Sign up for a race or head over to my JustGiving page to donate to my cause, Crohn's & Colitis UK.