I almost didn't run this race. I'd been reading up on the event details late last week and found myself getting totally psyched out about it. Cross country trails, stiles to climb over, it brought back memories of the ZEST Challenge and I wasn't prepared for that this weekend. I don't consider myself a trail runner and I knew that my training over the past few weeks had been inconsistent, the school holidays like a nuclear bomb that had obliterated my regular running routine. So the thought of getting up on Saturday morning to go do a trail run, I wasn't mentally or physically in the game. I even went as far as to look for other options, easier road races that would still allow me to get a 10K race in during August.
But in the end, I decided the best course of action was to just face my fears and get on with it. Worrying about whether I was fit enough for this race wasn't productive. And I knew that I was still fit enough to run 10K, it was just that I was starting to put too much pressure on myself to run it in a certain time. Also, I remembered why I signed up for this race in the first place. It was relatively close to home and would also allow me to explore a National Trust site and a part of England that I'd never been to before. And those were still good reasons.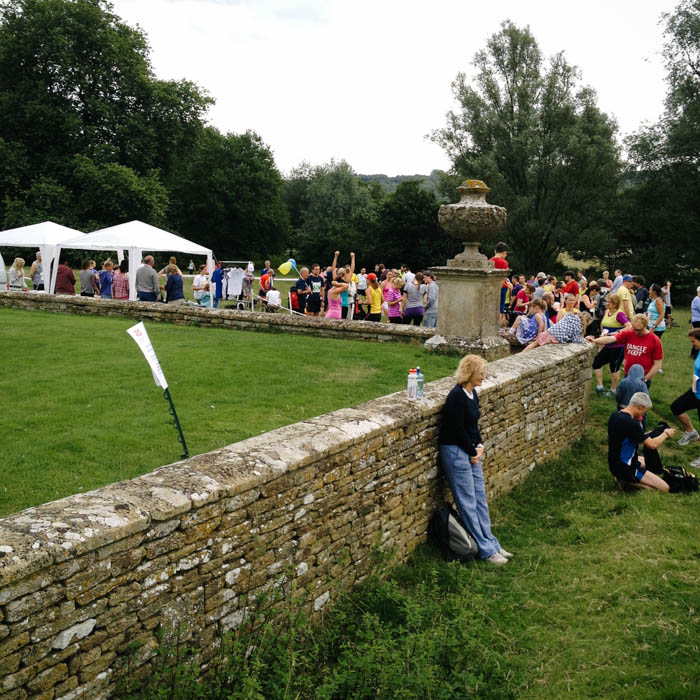 The race was organised in partnership with the National Trust and the race route was around the grounds and countryside surrounding Lacock Abbey. The village of Lacock is so quaint and typically English. If you're a fan of the BBC's version of Pride and Prejudice with Colin Firth (I mean who isn't???), you're familiar with Lacock. It's also made appearances in a couple of the Harry Potter movies.
Immediately, I noticed that this race had a different feel than some of the others I've done. There were no portaloos, only the regular loos maintained by the National Trust which were quite a distance from the start. This definitely required some advance planning. There was no tent village filled with sponsors marketing their wares, no DJ entertaining the crowd, and no big blowup archway over the finish. The start was in front of the Abbey and was marked solely with some poles stuck in the ground. There were similar poles and flags marking the finish, no fancy chip timing here. It was small and homey, as if a bunch of friends has just gathered on Saturday morning for a run. In fact, the field was filled with club runners, all decked out in their club shirts and doing their warm ups together. As a solo runner, I do find this a bit intimidating, as if I'm crashing a party.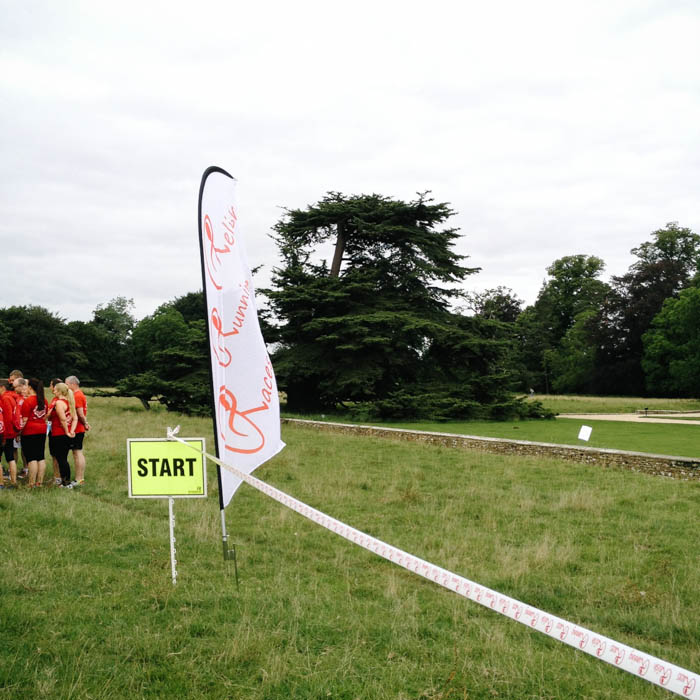 Because of the stiles we'd have to cross, they staggered the start. The men went first and then the women 10 minutes later. For the first part of the race, I ran through a field of long grass that tickled my calves and I had to watch my step so I didn't end up in a pile of cow manure or a patch of nettles.
Headphones were banned in this race so I was left to pace by feel and just listen to my body, probably the best thing anyway given my inconsistent training over the past couple of weeks.
I did however latch on to a woman in front of me, Louise. At least I'm assuming that was her name as that's what the back of her bright yellow running club shirt said. Louise seemed to have a nice easy pace and I found pacing myself with her helped keep me from starting out too fast. As we got to the first stile, there was quite a queue waiting to climb over it. And honestly, I didn't mind the moment to stop and catch my breath. As we climbed it in turn, the field then began to spread out. But I kept my eye on Louise.
In fact, there ended up being a small pack of us following Louise, all trailing her through the woods and then along the tow path. She started slowing down and we all cheered her to carry on. Don't stop Louise! We need you! But at about 4K, she decided that she'd done all she could do to carry us, we were on our own.
The course was an out and back which meant that we eventually started seeing the men pass us in the other direction as they headed for the finish. The course was quite narrow in many places and at times it was single file running with no opportunity to overtake (not that I was doing much of that). My pace felt OK, but I could definitely feel the inconsistent training. My legs just didn't have a lot to give.
At about 7K, I picked up the pace and I did play a little of the jersey game, picking out runners ahead that I wanted to overtake. But also at about this time I realized that I'd chosen the wrong shoe / sock combination. I started to get some blisters on my left foot which made those last few kilometers tougher than they should have been. Lesson learned.
As I neared the finish, I passed two men. Yes, they may have been walking at the time, but they did start 10 minutes ahead of me so that felt pretty darn good. Then there were three of us who decided to sprint for the finish, side by side. Just past the finish line, one of them looked at me and said "Thank you, I needed that push to get across the line." ME TOO. It's when I crossed the finish line that I noticed the girls with clipboards taking note of each runner's time. Aha! So that's how they keep time without chips.
My only goal for this race was to run the whole thing. I knew that with the trails and the stiles, a fast time was out of the question. And apart from the times I had to wait to climb over stiles of varying configurations and height, I did just that. My official time was 1:04:05 but according to Runmeter I'd completed the 10K in 58:34, the extra time reflecting when I was stopped waiting to climb over a stile. And I'm very pleased with this result and that I stuck with this race and didn't chicken out. Completing a 10K in sub 60 pace when my training had fallen off a cliff encourages me to keep at it. Because I know that when I do put in the effort I'll be rewarded. Life's funny like that.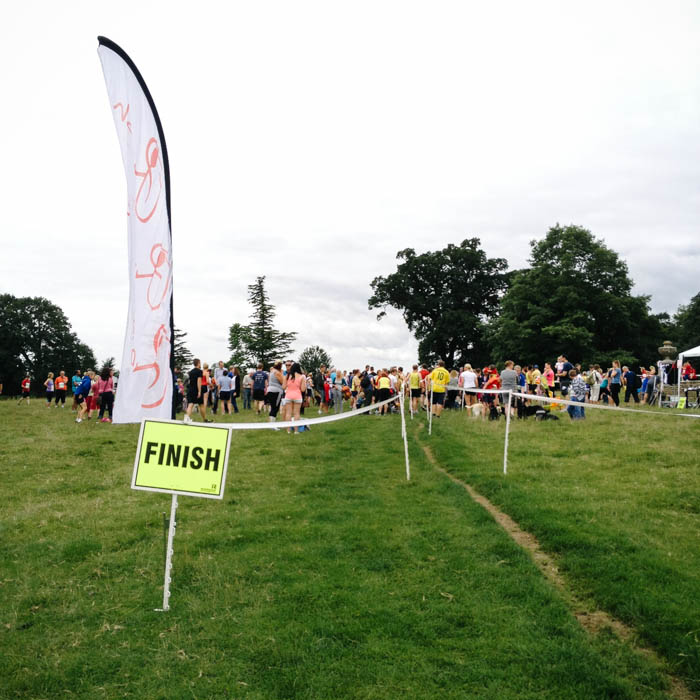 After the race, I did take a little stroll around the village and I've resolved to come back for a more in-depth visit. I definitely want to take in the Fox Talbot Museum and learn more about one of the inventors of photography. But that would have to wait for another day when my feet weren't aching with blisters.
Also, any of you runners who really know what you're doing have any tips on post-race nutrition? Even though I run the 10K distance on training runs, I find that on race days I totally want to crash and burn and just have a good nap.
Race Schedule Update
My next race was originally scheduled to be in Prague but for a variety of reasons I've changed to something closer to home.  So instead in September I'll be running around the grounds of Highclere Castle (AKA Downton Abbey).  Now how cool is that???  Anyone want to join me?