About this time last year I had just gotten my iPhone 4 and starting taking photos with it.  Out on a walk with the Little Monkey I noticed this patch of moss growing on the side of a wall and I thought, "Hey, that looks like Africa."  So, I took the picture above, one of my earliest Hipstamatic shots.  And I really didn't think anything more of it.
Until last week when we were out for another walk past the same place and it occurred to me to see if that patch of "Africa Moss" was still there.  It was and here's what it looks like a year later: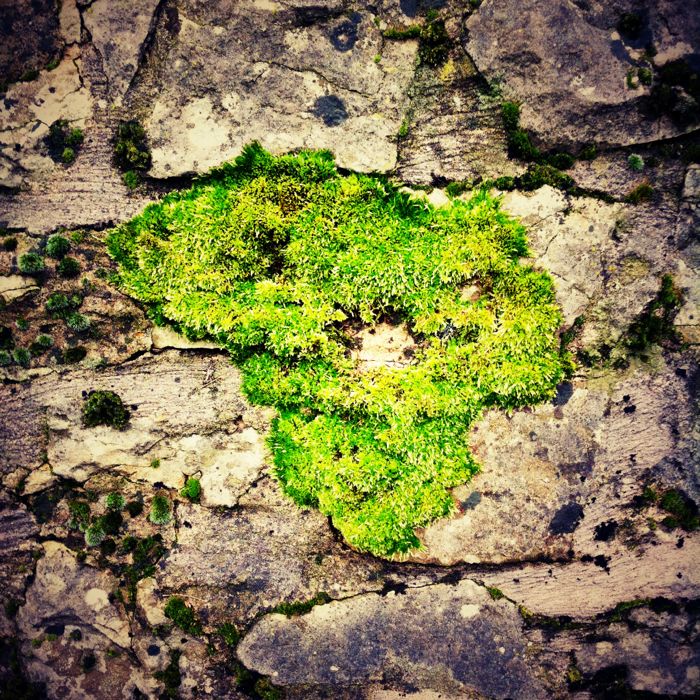 Now obviously the style of the photo is different.  As I've learned more about taking photos with my iPhone, my tastes and style have certainly changed over the year.  I shot this with one of my favorite apps, Lomora 2.
But what's more interesting to me is the moss and how it's changed.  It's certainly grown a little over the past year as you can see where some of the edges have filled in and expanded.  Then, jeez, it's taken a beating as well.  One big chunk taken out of the middle of the Heart of Darkness.  Yet, it's still there and it's survived.
Is this was happens to us over time?  We learn and grow and change and we persevere no matter what life has in store?