Starting in May 2013, I'm running a 10K race each month in support of a cause near and dear to my heart, CROHN'S AND COLITIS UK, the major UK charity offering information and support to people affected by Irritable Bowel Diseases.
I was already training for a 10K in May but really wanted to put a plan in place maintain my fitness mojo and keep running. I didn't want to follow my usual m.o. and train up for something only to fall off the fitness wagon immediately afterwards. So one day, the idea of having a race on the calendar each month as a way to stay motivated popped into my head. Now, I will have goals that keep me motivated and training throughout the year to keep up my level of fitness.
But then I realised that I could make this challenge serve some other purpose than just keeping me fit. I could raise money for charity and help raise awareness for the disease I've lived so long with, Crohn's. So I'm raising money for CROHN'S AND COLITIS UK along this journey. Aside from research into treatments and a possible cure, I believe some of the most important work funded by Crohn's and Colitis UK is the support they provide to young people affected by the disease. In fact this year they are focusing on the devastating impact Crohn's and Colitis can have on young people. Children and teens with IBD can find the emotional and physical challenges of these diseases almost impossible to cope with on a daily basis. Crohn's and Colitis UK works to provide them and their families with a much-needed support system.
So my year-long 10K running challenge will keep me fit but also allow me to do my little part to raise support and awareness for Crohn's & Colitis. If you want to help my cause and get involved, head over to my JUSTGIVING PAGE AND DONATE. You'll also be able to follow along with my race diaries here on the blog.
Race Schedule
Follow along with my race diaries. Or better yet, join me in a race!
April: Blenheim Palace 7K, Woodstock (race diary)
May: Oxford Town & Gown 10K, Oxford (race diary)
June: ZEST ALPRO CHALLENGE 10K, Henley-on-Thames (race diary)
July: WOMEN'S RUNNING 10K, Nottingham (race diary)
August: LACOCK ABBEY 10K, Near Chippenham (race diary)
September: ADP Highclere 10K, Newbury (I'm running at Downton Abbey people!) (race diary)
October: BUPA GREAT SOUTH RUN, Portsmouth (race diary)
November:  Eynsham 10K, Eynsham (race diary)
December:  Andy Reading 10K, Bicester (race diary)
January:  Oxford 10K, Oxford (postponed until March due to flooding at the race site)
February:  Run Eton 10K, Eton Dorney (didn't run due to illness)
March:  Reading Half Marathon, Reading (race diary)
My Crohn's Story
It was my senior year of college (1990) when I first got sick with diarrhoea that just wouldn't quit. A trip to the family physician while on a school break told me I simply had a bad case of gastroenteritis, something that would clear up in a few days. But when I returned to school, it just got worse and I found myself running to the toilet 20-30 times a day, all while trying to maintain a busy schedule of classes. I quickly learned where all the loos were in my classroom buildings.
My parents were able to get me an appointment with a GI specialist near my home in Virginia and luckily I had a car and could drive myself the 7 hours home. But going home to figure out why I was sick meant leaving school in the middle of term without any understanding of when I might return. Thankfully Dad, a college professor himself, knew exactly how to communicate with my professors so that they'd be willing to let me make up course work when I returned.
This is when I had my first colonoscopy. Hands down, the prep for this procedure is ALWAYS the worst part (though it has improved over the years), the gallons of fluid you have to drink and the hours on the toilet. The procedure itself, a walk in the park. The colonoscopy revealed that I had ulcerative colitis and as I tried to absorb what this meant, I started on a variety of medications that gradually made me feel better.
The next few years were a roller coaster, I returned to college, graduated, and then started graduate school. Most days I felt pretty good, some days I felt bad, some days I felt really bad. I also developed ulcers which meant that in addition to regular colonoscopies I began having upper endoscopies as well, once without any anaesthesia as I had to be back at school for an exam later that day. At the time, my physician thought the ulcers were unrelated to the colitis, but that's because we didn't yet know the whole story.
In my final year of grad school, 3 years after my first diagnosis of ulcerative colitis, I was busy travelling for interviews for my residency. I wasn't feeling great, feeling nauseous and struggling to keep food down. And sometimes I could actually see my bowels cramping. But I felt like I had no choice but to continue on with my interview schedule. I drove 8 hours to South Carolina for one set of interviews, then flew on from there to New Orleans for more. Most of what I remember of my 24 hours in New Orleans involves vomiting in my hotel room. I returned to South Carolina to spend another night vomiting before I got in the car and drove myself back to Virginia. I don't know how I made that journey home.
That evening as I lay on the couch in my apartment curled up in a ball of pain, mom finally convinced me over the phone that I needed to go to the hospital. I called one of my good friends who lived around the corner and he was gracious enough to take me to the ER. A few hours later, I found myself on the way into surgery for what they told me was likely appendicitis. When I woke up, it was another story entirely.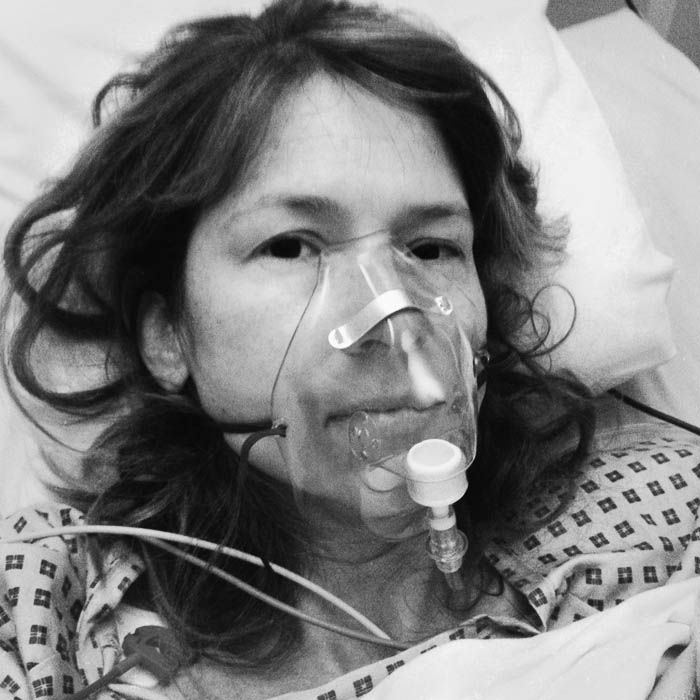 They'd found a mass in my abdomen about the size of a small grapefruit and biopsies revealed that it was Crohn's disease. I spent a week in the hospital recovering from my first bowel resection. And when I returned to my 3rd floor apartment where I lived alone, I was thankful for the support and understanding of friends who helped keep me fed and up to date with school work.
For several years after my surgery, I felt like my situation had greatly improved. How could it not after getting rid of all the disease I'd been carrying around in my belly? I still continued on various daily medications, which I realised I would be talking forever. But I still had relapses, periods when I couldn't bear to get up and go to work. But these periods were usually short-lived. And then my Crohn's came back with a vengeance, this time as another animal entirely.
This time, it wasn't that I was running to the toilet dozens of times a day, this time is was that I could barely go at all. You know how bad you feel when you're constipated? Multiply that times 10, or 20. It was like I was constantly carrying around an extra 10 pounds in my colon. Tests this time revealed that I'd developed significant strictures (narrow areas) in my colon that were preventing things from moving along as they should and creating a partial obstruction. My doctors tried various non-surgical approaches to relieve my symptoms, stronger medicines and regular colonoscopies to dilate the strictures. But in the end, none of these was successful, or a long-term solution. In the end, I'd need another resection.
And so here's where I am today. It's been just over six months since I had surgery to remove my strictures. I'm taking less medicine and generally feeling well. I must be if I'm about to run a 10k race every month. Even now though when I run I still have this little gremlin whispering in my ear, telling me not to push myself to hard, otherwise I'll have an emergency and end up like a bear, shitting in the woods.
I don't know what the future holds for me and my Crohn's but I do know that I couldn't be in any better hands. The fact that I landed in Oxford in the hands of a leading Crohn's specialist and where they are building a center dedicated to the research and treatment for Crohn's and Colitis, it's a blessing. This video will tell you more about the exciting developments coming to Oxford.
Oxford Institute for Digestive and Liver Diseases from PurpleDoorMedia on Vimeo.
I've never really shared much of my Crohn's story before outside my immediate family, and certainly not on the Internet. It's embarrassing and uncomfortable to talk about your bathroom habits. And it's super embarrassing to find yourself in emergency situations in public. But I felt like doing this challenge has given me a reason to share. Maybe there is something I've learned or experienced that will help some young person dealing with the disease know that they're not alone, that people are generally supportive and understanding, and that there is hope.