Two weekends ago I participated in my first sprint triathlon (750 m swim, 20 km cycle, 5.7 km run), the Blenheim Palace Triathlon. I don't really remember the sequence of events that led up to this but I'm certain that it started in December of last year with a little over indulgence in the Christmas cheer.
So back in January I started on this journey. I was already a runner but I didn't own a bike and my last memories of structured swimming were about 35 years ago when I took swimming lessons with the Red Cross over the summer school break. I had a lot of ground to cover. Luckily, I had three pretty amazing friends who had likewise succumbed to the Christmas cheer. If it weren't for them I would never have done this. And without them I most certainly wouldn't have been up at 7:30 am on a cool April morning to go jump in a lake. We were in this together.
I spent the night before Blenheim packing and re-packing, making sure I'd checked off everything on my gear list. Relative to my usual running events, triathlon, as you'd expect, has about three times the amount of kit required. A spreadsheet was necessary to make sure I didn't forget anything. And as a triathlon novice, I spent time watching YouTube videos of how to set up the all important transition area, the place where you change into your cycle and running gear. I felt woefully unprepared for this "fourth discipline."
We chose the priority start on Saturday, starting in the first wave of competitors. Despite the early start to the day, this was an excellent decision as parking and getting all of our gear into the transition area were a breeze. As we walked through the gates of Blenheim and into the main courtyard, red carpet covering the grounds greeted us. I admit it was a strange sight to see given the usual grandeur of the place.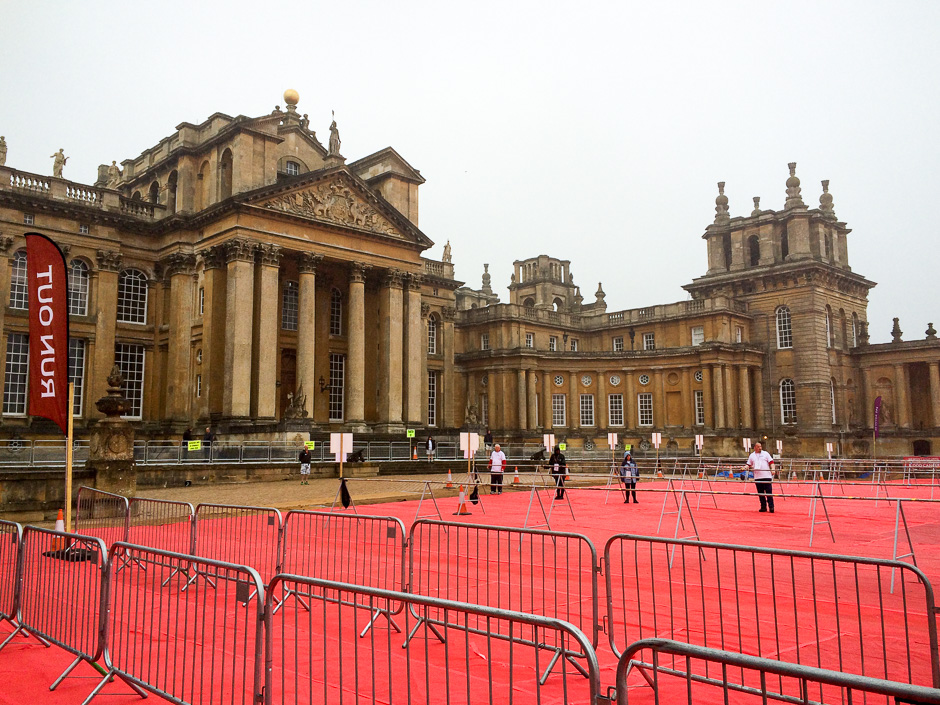 Weather on the day was stereotypically English, grey and dreary with rain. There was a light drizzle all morning and as we set up our transition areas, the rain became heavier soaking everything. Thankfully, we'd been obsessively monitoring the weather forecast beforehand and came ready with large bin bags with which to cover our stuff. The identification stickers they'd given us to affix to our cycle helmets and bikes even began to disintegrate. So the organizers recommended that we take selfies with our bikes so that we could prove they were ours when the stickers came off.
But the good news about competing in a triathlon when it's pissing it down with rain, you're already wet. Getting in your wetsuit and jumping in the lake is no big deal. And as my pre-race look says, I am excited about this challenge, but it is pouring rain and I am voluntarily out in public in skin-tight neoprene. So, I am also questioning my sanity.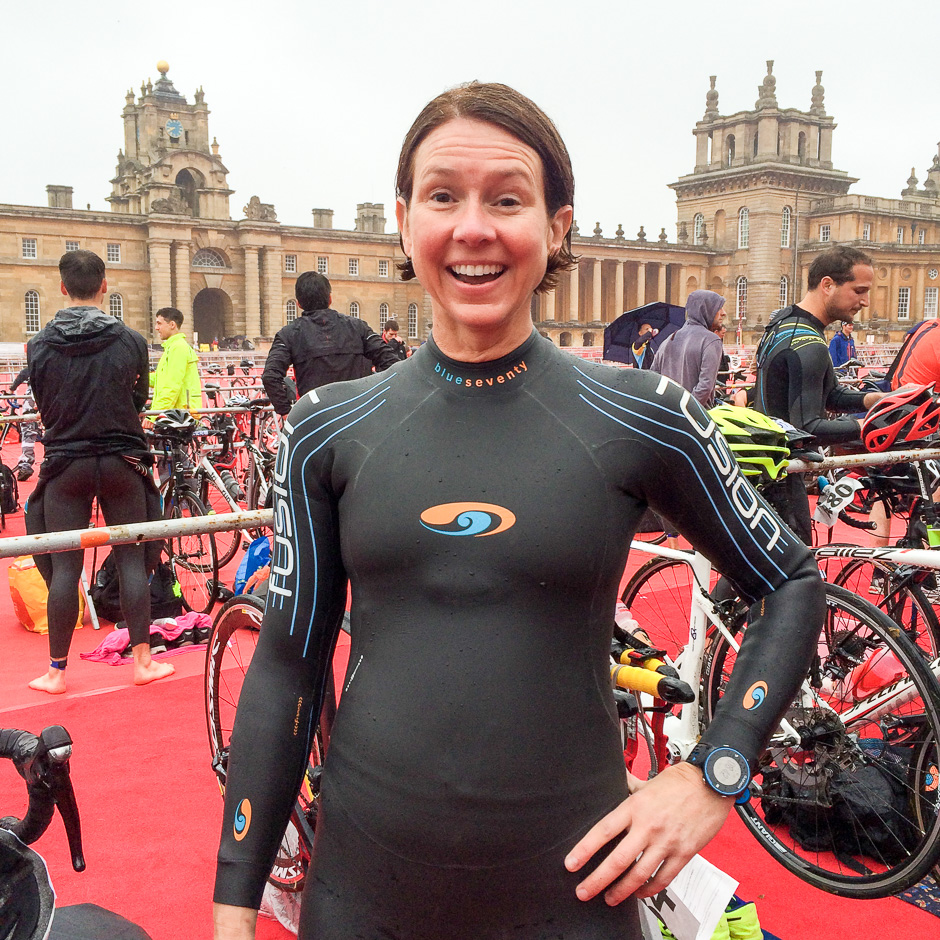 The Swim
I can swim but I'm not a swimmer. It's my weakest discipline and was usually the bit I just wanted to finish. I spent the winter doing sessions in the pool and then, once spring arrived, started training in open water at a nearby lake. As I'm in England and not the Mediterranean, this of course required a wetsuit. Now, outside of wool turtlenecks, wetsuits are quite possibly the most uncomfortable article of "clothing" that I've ever worn. That is until you get in the water and they completely come into their own.
My friends and I organized a group lesson with a triathlon swim coach who helped us open water novices through the anxiety of the unknown. Annie reminded us that much of the battle in the open water is with your own mind. "The water is not cold. It's fresh" she said recommending that we change our perspective. I repeated this mantra and then, as instructed, opened the neck of my wetsuit and let the 13.6 Celsius water rush in. It took my breath away. Annie also taught me the only triathlon swimming skill I feel I've mastered, the corkscrew buoy turn. In subsequent training sessions with the Oxford Tri triathlon club, we also learned how to cope with mass starts like Blenheim when people literally swim over top of you. It wasn't until my last open water training session with them, just a week before Blenheim, that I finally felt like I was getting comfortable in the water.
Our wave gathered in a holding pen by the water's edge until our start time. Then we all donned our green swim caps and jumped off the makeshift pier and into the water.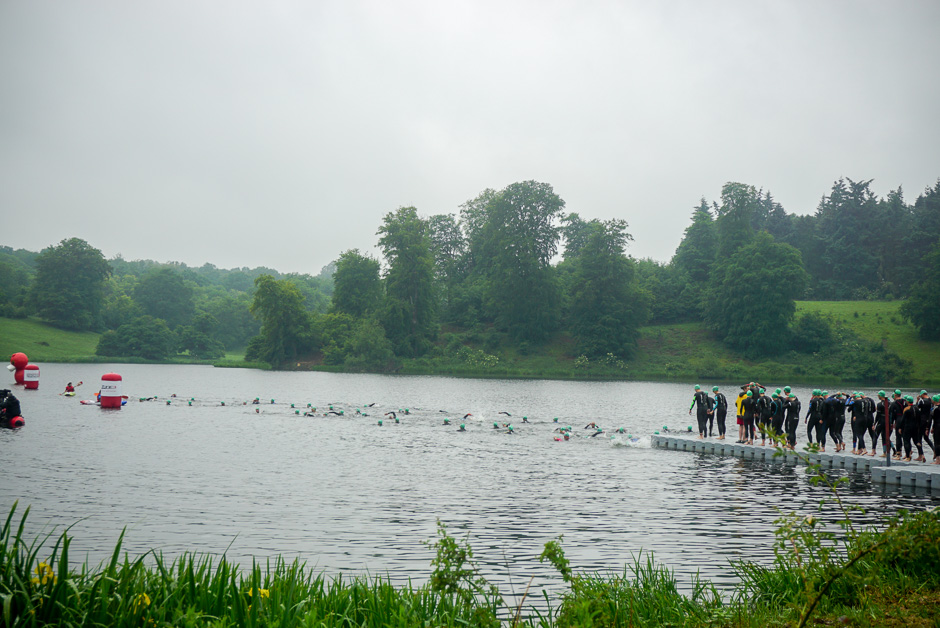 We had to tread water for about five minutes as we waited for everyone to get to the start and then an air horn blast signalled that we were on our way. I'm somewhere in that mêlée of swimmers.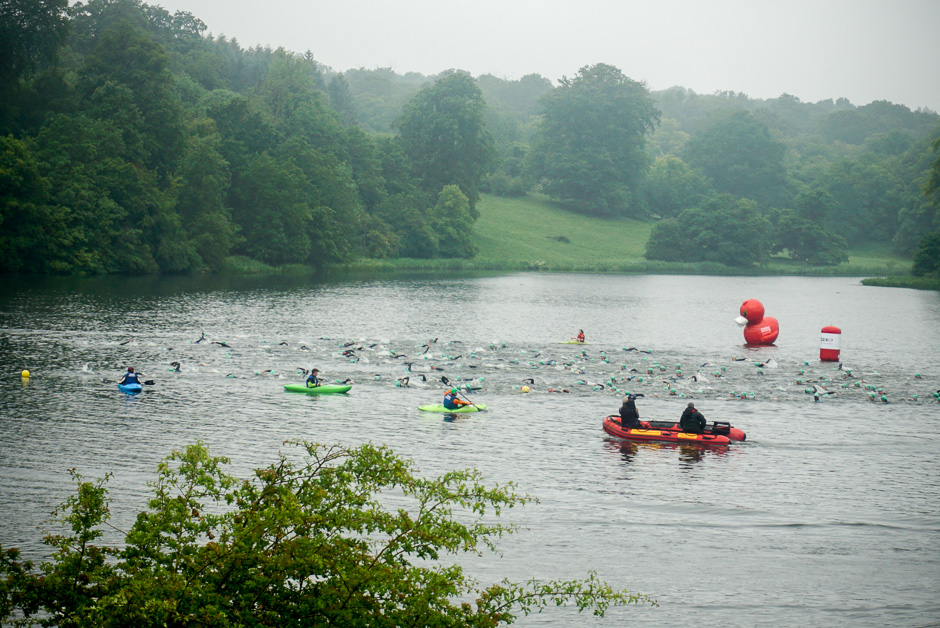 It's tough swimming in a crowd but I did find a way to get into a rhythm and just swim. Maybe because of all the rain, the water was much murkier than my earlier open water training swims and visibility was low. This made it difficult to see the other swimmers around me and it was all but impossible to avoid swimming into someone. And then after 18 short minutes (short for me) I finished my swim and climbed out of the water and onto the crazy long uphill run in my wetsuit back to the transition area, peeling off the wetsuit as I ran. Fingers crossed, all the baby oil and Body Glide I'd applied pre-race would mean that my wetsuit would peel off like greased lightning. (It didn't.)
The Bike
At the start of this adventure, I didn't even own a bike. Training through the winter largely meant spin classes in the gym. But I am not a fan of the gym and exercising indoors. So thankfully a spring birthday meant a new bike and plenty of new adventures learning how to ride in clipless pedals. Yep, fell over! Small country roads perfect for cycling litter the Oxfordshire countryside and I found that I really enjoyed this new way to explore and soak in the springtime scenery.
Going into the race I felt confident about the progress I'd made from ground zero on the bike and thought I'd have a strong outing on this leg. But once I extracted myself from my wetsuit and started on the bike leg, three laps around Blenheim, I realized it was going to be a tough ride. Blenheim is a hilly circuit and I'd clearly not spent enough time practicing hill climbs, my legs were burning on the ascent. Also, remember the weather? The course was super wet as it continued to rain. I had little experience riding in the wet and so my bald skinny tires and I were cautious and I didn't go for it on the bike like I thought I would. At the end, the brake dust I laid down on some of the slippery descents covered my wheel rims. I let the conditions get the best of me. And the whole time on the bike I had this voice in my head telling me to save my legs, I still had to run.
The Run
As my strongest discipline and the one in which I had the most experience, I took running for granted. But do you know what it feels like to immediately start running after you've just cycled for 45+ minutes? Until I started training for Blenheim, I didn't. It feels like your legs are made of jelly/jello (use country specific term here…) and they are screaming at you shouting "WTF are you doing? Stop!" On my first post-cycle "jelly leg run" it was all I could do to stay upright as I stumbled like a drunken sailor down the road. Training for triathlon is a different animal entirely and means including lots of "brick" sessions, a cycle followed by a run, to minimize the jelly-leg effect and get your body used to running on tired legs.
As I put my bike back on the rack in transition, I was glad to finally have the swim and the bike behind me and get into my comfort zone. I knew that even with my energy waning, I had a lot of muscle memory to call on to get me through the run. And, during the run, I was actually glad for the rain. There's something refreshing and cleansing about running in the rain. It was a good run but nowhere near my best 5K and the official race photos tell a pretty clear story of why. My posture says I'm exhausted, I have no core strength, and my arms are working across my body and against me. My running form had fallen apart. So while I felt like I finished the run strong enough in my first triathlon, there is plenty of room to improve!
The final sprint to the finish was brilliant. Not only did I have a little group of cheerleaders, everyone in my gang of training buddies who had finished ahead of me, but also the announcers called out my name as I ran down the finish chute and across the line. Such a great touch by the organizers.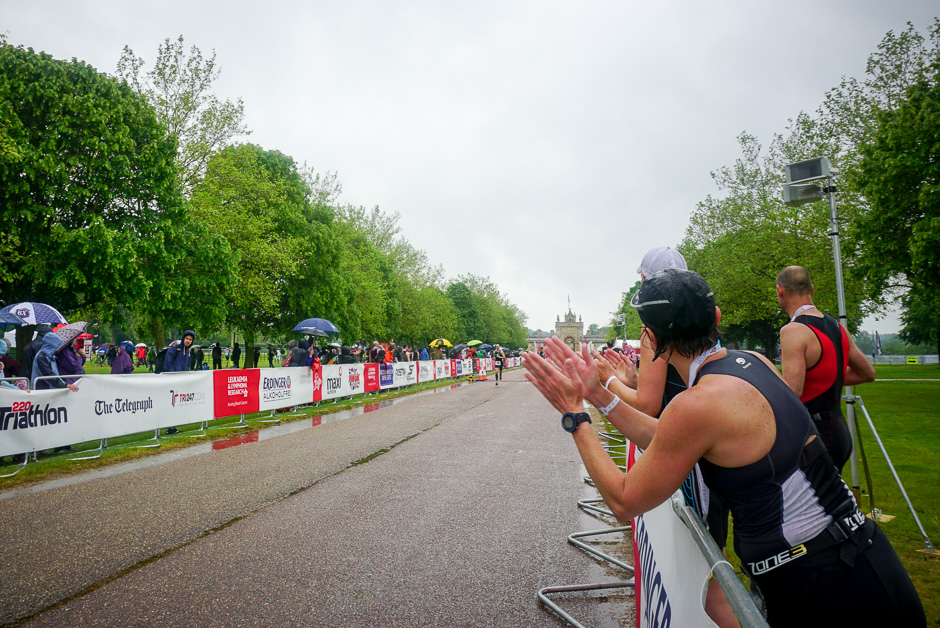 In Summary
🏊 😀 🚴 😕🏃 😐 🏆 😃
Having the endurance and know how to compete in three sporting disciplines, one after the other, is tricky stuff and, in comparison, just running now seems easy. But I loved the experience and the challenge enough to do it again. In September. Full Olympic distance. Crazytown!
And I'm excited to see if any of us made the TV broadcast. It's on tomorrow the 27th at 6:35 AM on Channel 4 in the UK. (Recording that by the way…)
+++++
Thanks to head cheerleader J for many of the photos. Massive gold star for coming out in those conditions voluntarily.