Six more weeks until the Berlin Marathon.  Not that I'm counting down or anything.
Last week I said it was time for me to move through any panic and doubt that I have about my ability to run a marathon and just get on with enjoying the journey.  And one of the things I've learned as I've been on this running journey is that there is so much more to being a good runner, especially an endurance runner, than just running.
Yes, one of the reasons I love running is that, at its core, it's simple.  There's no monthly membership fee, no required fancy gear (note I say required, not desired here), you can just put on shorts, a t-shirt, and a pair of trainers and head out your front door.  We humans were built to run since the era when we were hunters chasing animals around with bows and arrows.  Anyone can do this.
But then as you get into running as a sport, you want to run farther or faster, or both.  And, if you're like me and not in high school any more, running farther and faster while staying injury free is even more complicated.
For me, this translates into what I call the "Circle of Running."  In order for me to run through the Brandenburg Gate and across the finish in Berlin, as well as running, my training must include activities that also build strength and flexibility.  I need to make sure I'm feeding my body the right fuel to give me energy and help my muscles recover.  And, I think most importantly, I need to train my brain to be motivated and mentally focused on this challenge.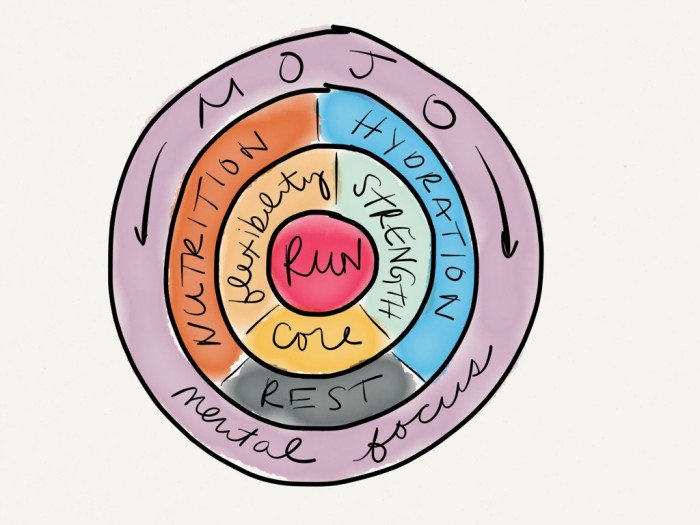 So, as I countdown to Berlin over the next few weeks, I'll share details around how I've filled in my Circle of Running.  Next week I'll start by sharing how I've built my running foundation and the Ironman athlete who's been helping me do that.  Stay tuned!