December 1st rolled around this year and all of a sudden it hit me like a freight train:  I have a child who is now old enough to start appreciating the magic of Christmas and I am woefully unprepared.  We don't have any decorations or presents yet.  We haven't made cards.  And finally, we have no Advent calendar.  And while the other stuff will happen eventually as we work our way into the festive season over the next couple of weeks, if the Advent calendar didn't start it on Dec 1st, well, we might as well abandon the thing.  Note, it's not like we have some long-standing Advent calendar family tradition I was in danger of breaking.  I just thought it would be a nice thing for us to do every day in the build up to Christmas.
This is why, at the last-minute, on the afternoon of December 1st, I decided to make an Advent calendar.  Yes, make an Advent calendar.  Sure I could run to the shop and pick up one of those calendars with the little chocolate pieces in each day, but the Little Monkey doesn't like chocolate (how is he related to me??).  I couldn't see him being excited about that each morning.  But something that has a bunch of small little toys?  That he'd love (well, what kid wouldn't?).  Then, as I'm surfing the Internet, I come across all of these crafty ideas for Advent calendars.  And I think to myself, OK I can do that.
My plan involved some paper cups, glitter glue, construction paper, and ribbon.  Most of this we, remarkably, already had at home.  For each day, I put a small toy inside a cup.  Then, I made tops for each with the construction paper and glitter glue and then tied them onto the cups with ribbon.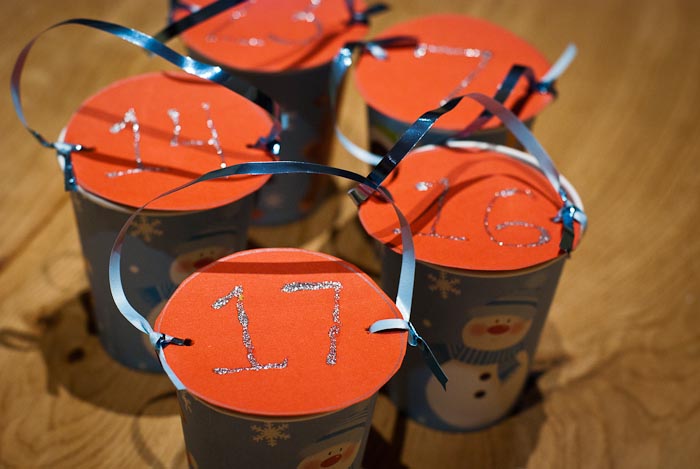 And then I hung them all on a small little table top tree we had. It was brilliant.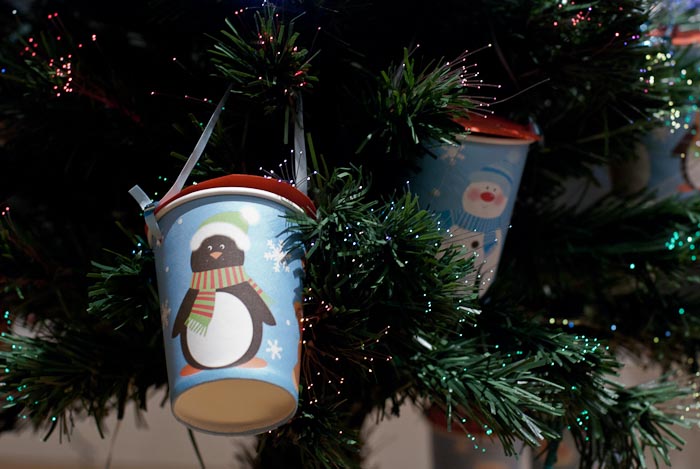 That is until we got the Little Monkey to open the one for December 1st.  Well, once he found out he had twenty-five cups full of little toys and he could reach them, that was it.  It's one of those decision points that you have as a parent.  Do you stick to the principle of this thing and try to reason with your screaming two-year old about why he can't have these little trinkets or do you just give in and let him have them.  What did we do?  Well, we decided to just let him dig in and open then all in one go.  Advent calendar done.  Just like that.
Although he is learning about the magic of Christmas, he's still too young to really understand what it's fundamentally all about.  And trying to force that on him at the age of two just seemed a bit much.  We've got plenty of time to teach him about the meaning of Christmas.  And plenty of Christmas seasons for me to be more prepared.  This year, teaching him about the magic of instant gratification seemed like a better idea.